Choose Life SA
Rehabilitation Centre
The path to recovery isn't a sprint, rather it is an endurance race with many hurdles to overcome. You must be prepared to face the many challenges associated with your recovery program.
Our Story
Choose Life Specialist Recovery Centre, one of South Africa's private secondary care specialist rehabilitation centre and clinic, opened its doors to recovering addicts in 2016 – an event that founder Vernon Goss sees as another important milestone in the evolution of one of the world's top rehabilitation facilities, Riverview Manor Premier Specialist Rehabilitation Centre, situated in Underberg, KZN
Located on the coast of KwaZulu Natal, this beautiful suburban house overlooking the Durban CBD, harbour with ocean views has been renovated into a home from home treatment centre. Choose Life Specialist  Recovery Centre treats drug and alcohol addiction and dependence, anxiety, depression, trauma and stress.
As the complexities of modern day living have grown, it has moved with the times, opening a new secondary care facility in 2016 and constantly updating its programmes to incorporate a growing range of addictions that now also include everything from substance abuse (crystal meth, heroin and cocaine) to prescription medication and even gambling and sex addictions.
Our programs are focused on sustained recovery
Our intensive program provides life skills that are vital to a sustained recovery.
We welcome patients from everywhere!
Choose Life Specialist Rehab Centre, treats local as well as international patients who benefit from its quiet suburban location, confidentiality, professionalism and competitive pricing.
We are a licensed and Registered Centre
Choose Life is contracted to all medical aid schemes and insurances.
Vernon Goss
Goss, himself a recovering addict, bought what was originally a country hospital with a doctor's surgery and just three wards in 1998.
He manufactured and sold medical equipment to hospitals at the time and was approached to buy the country hospital which was in financial difficulties. Back then, there were very few rehabilitation facilities and he knew that there was a need.
His own experiences, contributed to his vision to create another private centre with professional treatment care for all forms of addiction. Choose Life can accommodate only 13 people at a time.  This is also a great plus as you get the attention that is required for your recovery.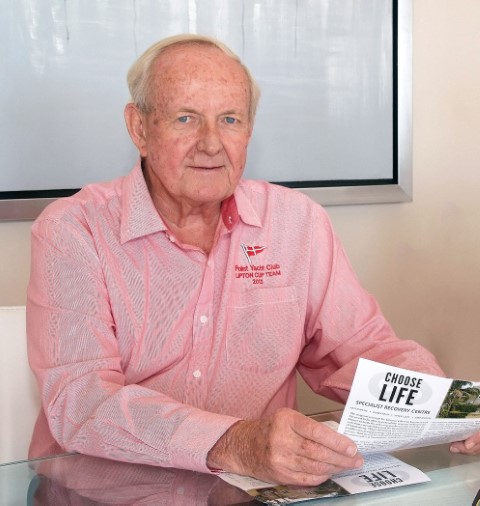 "The best way to begin any journey to recovery is to choose a treatment centre and a partner that you can trust and with whom you feel comfortable. You need to find a place to which you can escape to heal and deal with any addiction that is impacting on your ability to live a healthy life. This must be a place where you are understood and feel nurtured and where you can be confident that you have total privacy and confidentiality. This is particularly important for high profile clients who would be easily recognised in major cities.
 Always "hands-on", Goss booked into a facility in Midrand to 'try it out' and find out just how a facility such as this operated.
"I arrived at a nice building with a fabulous reception but, once past that, it was antiquated. The facilities and treatment were not good and so I was inspired to come up with something better," he recalls.
Whilst the buildings were being extended and his wife, Anne got busy with the décor and garden landscaping, Goss travelled abroad to study the facilities and programmes at some of the world's leading rehabilitation centres. He then brought in local specialists to work with him to incorporate these international programmes and create Riverview's own treatment regime.
To date, this is psychotherapeutically based and incorporates the best of traditional and modern approaches. The intensive program provides life skills that are vital to a sustained recovery.
Goss is proud that he has been able to create a second recovery centre after the huge success of the Underberg Riverview Manor Rehab centre, which maintains such a high standard of dedicated care and professionalism.  While it is a privately owned practice it has been structured with a staff compliment of many different races and cultures, and this diversity has been employed to facilitate therapy and care in the patient's mother tongue, whether it be Zulu, Xhosa, English or Afrikaans.
Goss admits that, recently, there have been many unfortunate instances of poorly operated facilities run by ill equipped and often greedy opportunists. (Choose Life together with Riverview, which is owned by the Vernon Goss Family Trust, does not operate for financial gain.)
Goss, too, remains deeply involved in the management of Choose Life. "This gives me a purpose now that I am retired.   I feel the people I have met over the years deserve a second bite of the apple," he says.
Don't Wait Any Longer. Contact our team today!